Depicting the Superior Lateral Genicular Artery
The superior lateral genicular artery (SLGA) is the basis for a chimeric perforator flap in the lateral region of the knee, which can be used as a vascularised free flap in reconstructive surgery to replace fairly large areas of damaged or missing skin- and soft tissue. 
As part of a study to describe the extent and variations of the cutaneous angiosome of the SLGA (C. Gstoettner et al.), the anatomy of the vessel and its perforators was explored and presented in the Journal of Plastic, Reconstructive & Aesthetic Surgery. 
THE TASK was to prepare an illustration that depicts the anatomy of the human knee with the SLGA recognisable as a branch of the popliteal artery, whilst showing its osseous branches as well as a perforator vessel passing through the fascia.
The main challenge was to clearly depict the course of all the superficial and deep branches of the blood vessels, which are overlaid by the highly complex muscle and tendon structures around the knee.
THE SOLUTION was to create two different views of the same anatomical region: One highlighting the course and position of the SLGA vessels in relation to the bone structures within the knee, the other focusing on the perforator vessel going through the fascia, with partially ghosted depictions of the muscles and tendons.
To find the best angle of depiction, a series of preliminary sketches were prepared before commencing with the final artwork. For the publication some additional simplified illustrations were added to communicate the relationship of the perforator vessel to the size and position of the angiosomes as well as the perforator flap.
First a series of preliminary sketches were made to determine how best to include all of the relevant anatomical details…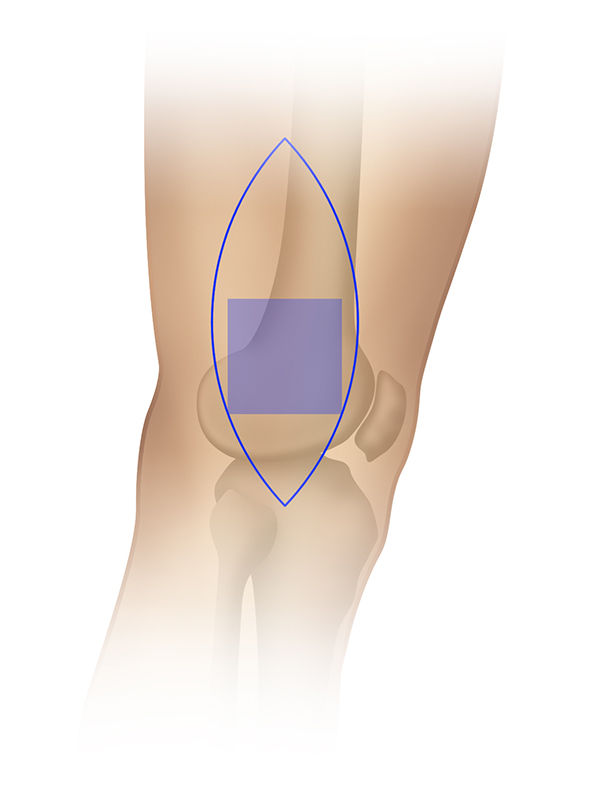 Simplified diagrammatic illustrations were used in the publication to show the potential size and position of an available vascularised free flap…
…as well as the distribution of all perforator vessels and the size and shape of the angiosomes as determined in the study